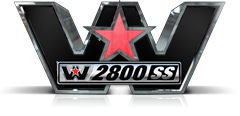 There's no hiding the facts, the 15-22.5 tonne rigid market
demands a tough truck.
The all-new 2800 has arrived. At Western Star we are serious about trucks, which is why you can rely on the all-new 2800, and the Australia wide back up from one of the world's most trusted truck brands and dealer networks. We mean serious business. Yours that is.
Features
Explore the 2800 and see what it's made of.
Tilt Tray
Local Distribution
Explore all Models
Models
Explore our range of Western Star Trucks