HIGHLY VERSATILE WITH A SHORT, SLOPED BONNET
Our X-Series trucks aren't just the best trucks Western Star has ever built, they're the best trucks anyone has ever built. The most tested Western Star ever, the X-Series was designed from the ground up without compromising the serious durability for which Stars are renowned.
• HEAVY DUTY FRAME – Steel-reinforced aluminium cab with steel door. Various sleeper options; Day cab – trench or standard. Sleeper – 36″ low trench, 36″ & 48″ mid integrated
• FIELD OF VISION – Delivers a superior field of vision thanks to a surface area that's 28% larger than our previous product offering, making it one of the largest windshields in its class. With 24-inch wiper blades that cross over the centre glass for 37% improved wiper zone
• ONE-PIECE WINDSHIELD – One-piece, roped-in design enhances the field of vision with an unobstructed view. Optional single or high-visibility three-piece rear window
• IMPACT RESISTANCE – Optional TufGlass impact-resistant windshield is 2.5x more resistant to damage, reducing repair costs, and downtime
• SOLAR TINTED GLASS – Standard solar tinted glass reduces heat in the cab, improving operator comfort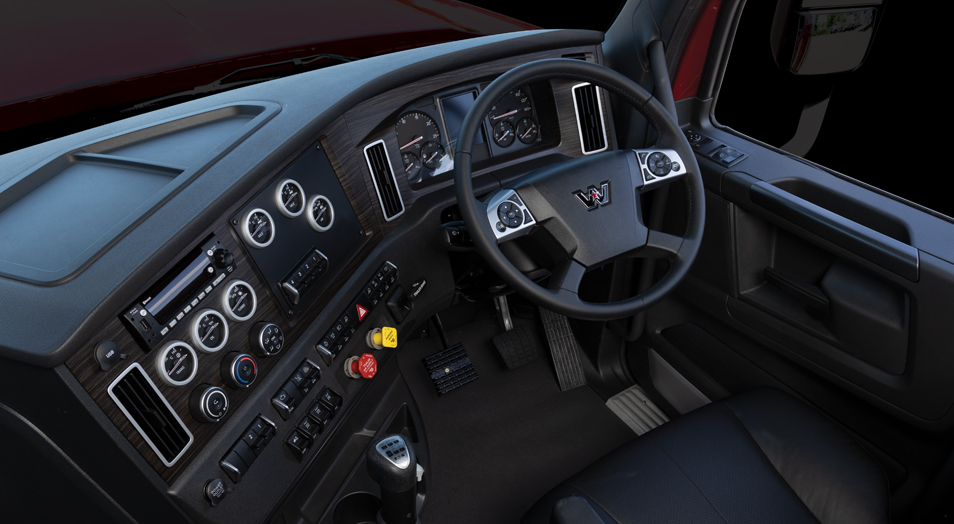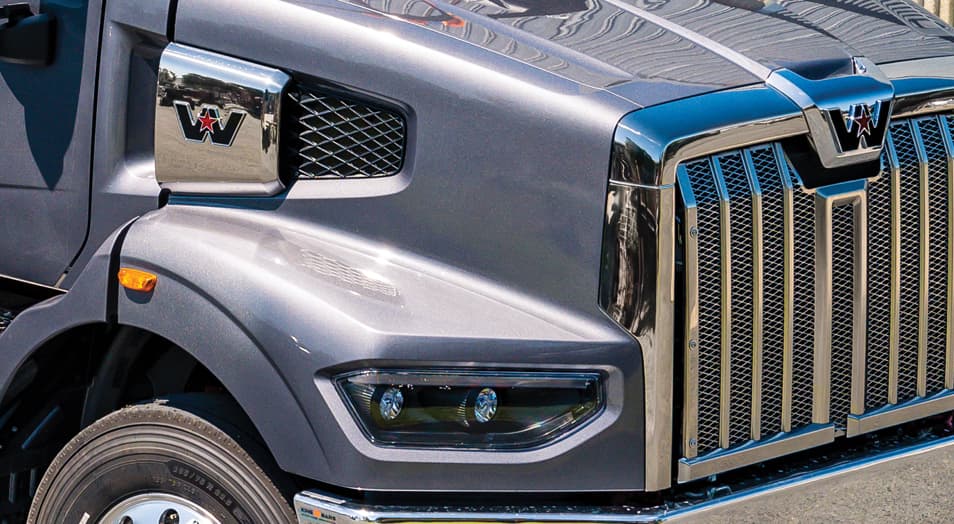 • Impact-resistant, durable, lightweight moulded resin hood with sloped high-visibility design
• Stainless steel and aluminium bright works, including grille with pronounced centre bars, air intake covers, mirror back covers, and sun visor plate
• ISO Tech bonnet suspension system
• 111.6″ BBC
INTELLIGENT LED HEADLIGHTS
The best headlights Western Star has ever produced, the dual stage intelligent LED headlights are designed to last the lifetime of the truck, with no bulbs needed to be replaced ever. Plus, they deliver superior visibility and improved safety with:
• Integrated white daytime running lights to make the truck more visible to oncoming traffic and on the job site
• LED output designed to fully illuminate the road and job site, including off to the sides of the vehicle, to reduce eye fatigue while letting drivers detect objects sooner
• High-impact polycarbonate lenses with additional hard coating protection to prevent cracking, scratching, or damage to the headlight from road or job site debris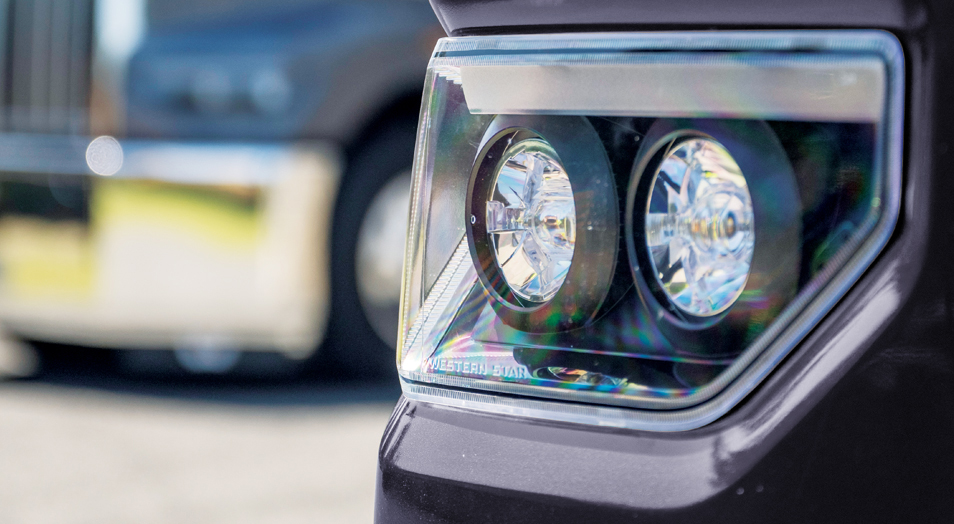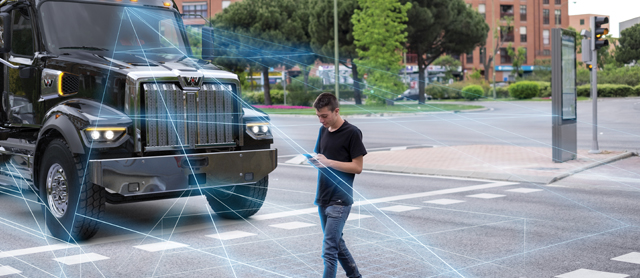 Active Brake Assist 5
Active Brake Assist 5 (ABA 5) detects distance and speed to moving and stationary objects in its path and determines if braking is necessary. It's the only system on the market that works down to 8 km/h, making it ideal for travel in congested urban areas. It also recognises pedestrians who are about to cross in the truck's path, alerting the driver while partially braking, followed by full braking if the driver does not react. The market-leading ABA 5 has fused a camera and radar, which is cutting-edge technology.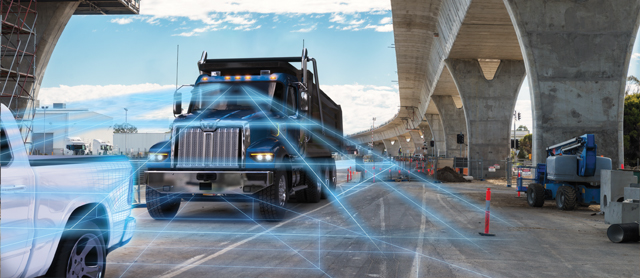 ADAPTIVE CRUISE CONTROL TO 0 KM/H AND BRAKE HOLD MODE
Detroit Assurance enables state-of-the-art features that make a driver's workday safer and more comfortable than ever before. And on the job site, brake hold mode keeps a truck stopped when the driver removes their foot from the brake pedal, or if their foot unintentionally slips off.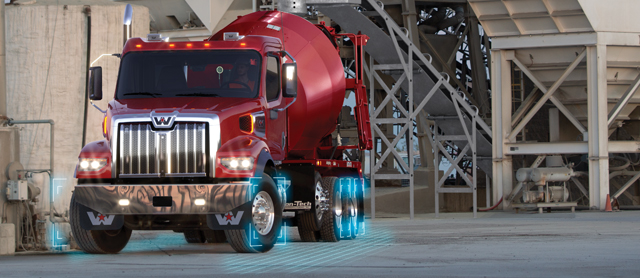 SIDE GUARD ASSIST
A game changer for safety in and around busy jobsites, Side Guard Assist detects objects on the passenger side of the truck and alerts the operator.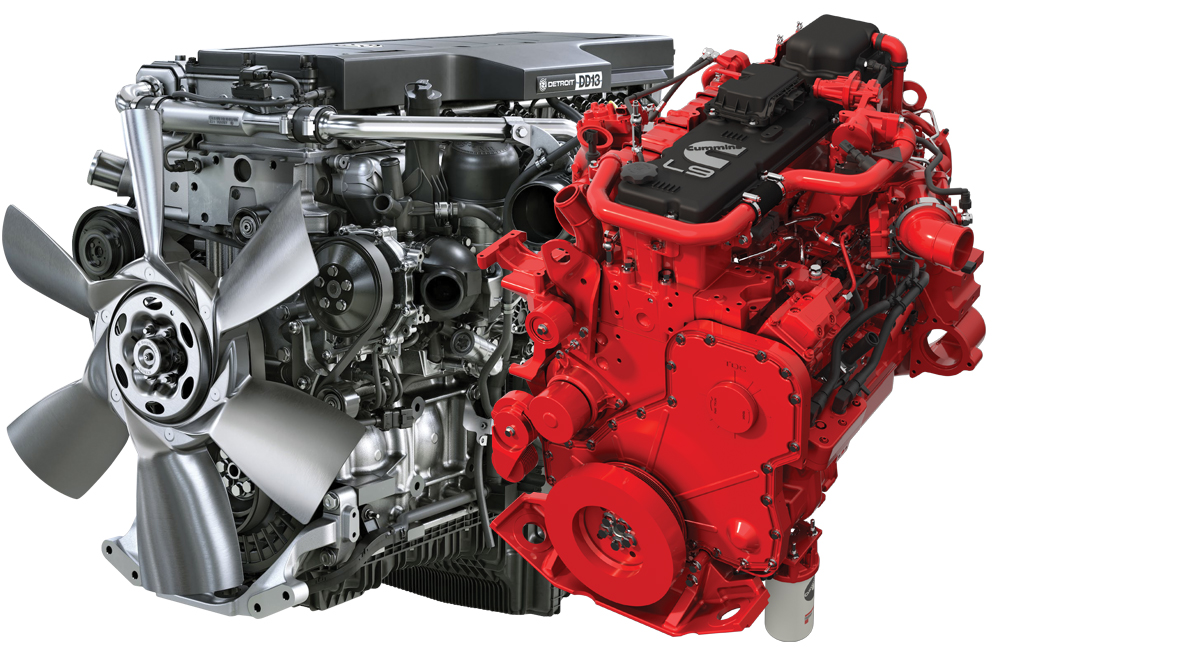 ENGINE
Our trucks are powered by superior engine solutions from leading manufacturers, Cummins and Detroit, and have been custom fit to Western Star trucks to ensure you get maximum power and reliability. Whether you're hauling fuel, livestock, or freight, our selection of well-proven and powerful Detroit and Cummins truck engines are the driving force behind your Western Star. Proven, reliable, and efficient are just a few words we would use to describe the engines in our rugged Western Star trucks."
POWER:
450 - 525 hp

TORQUE:
1,550 - 1,850 LB-FT
POWER:
260 - 380 hp

TORQUE:
860 - 1,255 lb-ft
FREQUENTLY ASKED QUESTIONS
What is the 47X designed for?
The 47X is developed to survive the challenges of the Australian market. Its setback front axle means that it can meet overall vehicle length requirements and  bridge laws, and its low tare weight makes it ideal for applications such as concrete mixers, dump trucks, logging and operations.
What transmission options are available for the 47X?
The 47X is available with the Detroit DT12-OV and DT12-OVX automated manual transmissions, the Eaton Fuller manual transmission, and the Allison automatic transmission. To specify the  exact transmission you need, see your nearest Western Star dealer.
What GCM is the 47X?
This depends on your chosen transmission. GCM ranges from 72,500kg with the DT12-OV up to 140,000kg with the DT12-OVX.
What axle configurations are available for the 47X?
The 47X is available in 6×4, 8×4, and 10×4 configurations.
Which cabs are available in the 47X?
The 47X has a variety of available cabs, including day cabs (trench and standard) and sleeper cabs (36" low trench, 36"and 48"mid integrated).