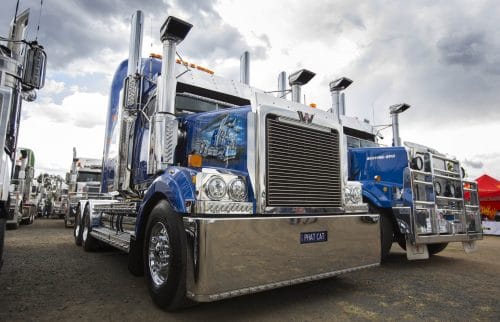 Stars Shine in Toowoomba
Western Star Trucks' Show n Shine yesterday was a huge success with a range of gleaming Stars displayed by proud owners.
Held at the Toowoomba Showgrounds with support from recently‐announced Penske Commercial Vehicles' selling dealer, Pengelly Truck and Trailers, the trucks on display were judged across various categories with the 'Truck of the Show' award presented to North Queensland Truck and Machinery Movements' 'Phatcat' 4800 Truck.
The second annual Show n Shine hosted by Penske Commercial Vehicles featured a range of fun activities for all including appearances by Shell V‐Power Racing drivers Fabian Coulthard and Scott McLaughlin, and music performances by Mick Lindsay and Troy Cassar‐Daley.
"Our second Western Star Trucks Show n Shine was a fantastic success," said Kevin Dennis, managing director of Penske Commercial Vehicles.
"There was a hugely impressive array of trucks on display for all the attendees to see" – from the Western Star 2800 through to the 6900 truck.
"It was great to give customers the opportunity to meet each other and chat about their much-loved Stars.
"The Shell V‐Power Racing drivers were also a huge hit with the more than 500 attendees, as were musicians Troy Cassar‐Daley and Mick Lindsay who put on a rocking show to end the fabulous day!
"Despite the weather dampening the afternoon's activities, we were pleased to see the sun reappear prior to the concert!
"While we work to reach our customers through various channels, the Show n Shine is a tangible outcome of the commitment we made to increase our direct‐to‐customer activities.
"We also had fantastic support from our suppliers and sponsors who helped to make it the great day it was."
Show and Shine award winners:
Truck of the Show
North Queensland Truck and Machinery Movements' 'Phat cat'
Best Western Star under 5 years (1‐5 years)
Brown Linehaul
Best Western Star under 10 years (5‐10 years)
Mansell Heavy Towing
Best Western Star over 10 years (10 & beyond)
Big Truck Parts
Best Western Star Fleet
Case Linehaul
Best Western Star Rigid
Mansell Heavy Towing
Best Heritage Truck
Heavy Haulage Assets