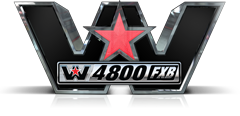 The Western Star 4800
A Versatile Commercial Truck
Time is money, which is why the Western Star 4800 truck series is designed to be versatile and able to shift as well as grow with your transport business.
Specifically built to meet the 26 metre, B-double regulation, the 4800 is a great addition to your commercial fleet, or this prime mover works well on its own. Particularly for those needing a comfortable, sturdy, tough long-haul, line haul or B-double, the 4800 is suitable for a wide array of commercial trucking applications. The 4800 is also suitable to use as a tipper truck.
A serious all-rounder, the 4800 allows you to change freight requirements from season-to-season without changing your truck. On a larger scale, this means fleets have versatility without owning multiple trucks to meet requirements. We care about your bottom line as much as you do.
Choose a Detroit or Cummins engine
We believe in choice, and the 4800 allows you to pick the engine you need. Depending on your commercial trucking requirements, you can opt for one of the three following engines.
Detroit DD13: 12.8 L, up to 470 hp
Detroit DD15: 14.8 L, up to 560 hp
Cummins X15: 15 L, up to 600 hp
Spacious Sleeper and Day Cab configurations
The most versatile model in the Western Star line-up, the 4800 is available with sleeper and day cab configurations. The roomy, full-width, walk-through cabin gives occupants a spacious environment, while offering ample storage options. The functional dashboard control panel ensures everything is at your fingertips, leaving you to concentrate on the task at hand.
Features
Explore the 4800 and how it could work for you:
Mining
B-Double
Live Stock
Line Haul
Tippers
Logging
19 Metre
Western Star 4800 Information
Explore all Models
Models
Explore our range of Western Star Trucks