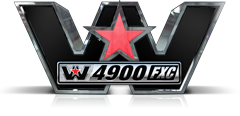 Your truck is your livelihood.
Why should you settle for average amenities when five star comfort is available?
The 4900 truck model range was designed for strength and dependability to go the distance and more importantly, to deliver you results. Powerful and versatile, there are multiple options available to help you spec the perfect truck for the job. Plus a few nice surprises when you turn the key.
Features
Explore the 4900 FXC and see what it's made of

Explore all Models
Models
Explore our range of Western Star Trucks