Western Star 4900 Hauling Truck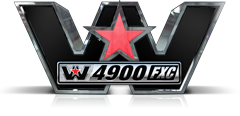 Your truck is your livelihood. The 4900 is a heavy duty hauling truck with the comfort to match.
Why should you settle for average amenities when a five star luxury sleeper cab is available?
The 4900 truck was designed for strength and dependability to go the distance and more importantly, to deliver you results. Powerful and versatile, there are multiple options available to help you spec the perfect truck for the job. Plus a few nice surprises when you turn the key.
A Powerful Heavy Hauling Engine
Western Star is all about choice and the 4900 is no exception. Power your prime mover with the engine of your choice. You can opt for a Detroit DD15 or a Cummins X15. This power of choice combined with Western Star's inherent efficiency means you are poised for profit, whatever you decide.
Suitable for Commercial Trucking Applications
The 4900 is famous for good reason. This Star encapsulates the essence of Western Star's heritage in Australia. Handcrafted to meet tough conditions but not rough on resources. Powerful. Versatile. And you get to choose your own adventure with this truck. Whether it's a road train, used for logging, moving livestock, bulk haul, or general freight, your Star is built to meet your exact specs. Now that's legendary. Find a Western Star dealer near you.
Features
Explore the 4900 and see what it's made of
B-Double
Line Haul
Tipper & Dog
Tanker
Logging
Interstate
Western Star 4900 Information
Explore all Models
Models
Explore our range of Western Star Trucks