Detroit DD15 Truck Engine
The DD15 is the latest engine from Detroit for the on-highway market.
It is EPA 07 compliant and EPA 10 ready, so you are prepared for the upcoming emission regulations. The engine is available as 6-cylinder inline configuration and delivers unrivalled torque response, power and optimised fuel consumption.
The DD15 has specifications like no other Detroit diesel engine. Its durability is unmatched with an industry leading 1 Million B50 life and it is exceptionally quiet making it a pleasure to drive. Using the latest technology, like Detroit diesel's sixth engine control system, the DDEC VI, the DD15 takes innovation to a whole new level.
Features
Explore the DD15 and see what it's made of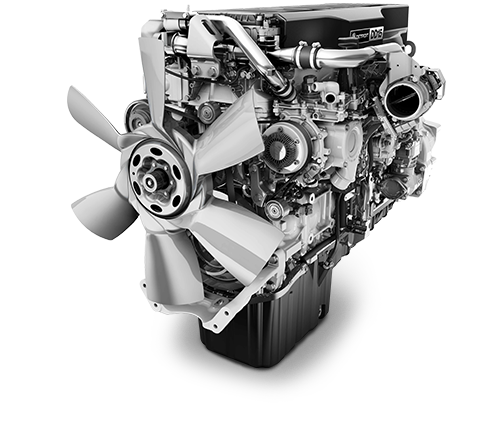 | | |
| --- | --- |
| DD15 Specifications | |
| Configuration | Inline 6 Cylinder |
| Displacement | 906 cu. in. (14.8 L) |
| Compression Ratio | 18.4:1 |
| Bore | 5.47 in. (139 mm) |
| Stroke | 6.42 in. (163 mm) |
| Weight (Dry) | 2763 lb. (1254 kg) |
| Electronics | DDEC |
| Oil Capacity | 45.5 qt. (43 L) |
| Horsepower Range | 455-505 |
| Torque Range | 1550-1750 lb-ft |
Availability
The DD15 is fitted to
Explore all Engines
Engines
Explore our range of Engines
Cummins ISL Euro 5

Explore Engine

Cummins ISB6.7

Explore Engine

Cummins X15 Euro 5

Explore Engine