Cummins X15 Euro 5 Truck Engine
Market Leading X15
The X15 is the latest addition to Cummins 15-litre engine line-up in the South Pacific. Utilising selective catalytic reduction (SCR) exhaust aftertreatment technology for Euro 5 emissions compliance, the X15 ratings extend from 450 hp/1650 lb ft to the top-output Signature punching out 600 hp/2050 lb ft.
The X15 retains Cummins proven 15-litre base engine design but incorporates a new common rail fuel system known as XPI (extreme high pressure) which provides very precise injection and combustion control, a wastegate turbocharger and a single overhead camshaft. All X15 engines include the Cummins Intebrake, providing the strong engine brake retardation for which the ISX and Signature engines are renowned.
All X15 ratings, 485 hp and above, feature peak retardation of 600 hp. The SCR exhaust aftertreatment on the X15 is a fully integrated system developed by Cummins Emissions Solutions, dosing urea into the exhaust stream to reduce oxides of nitrogen (NOx) emissions.
Features
Explore the X15 and see what it's made of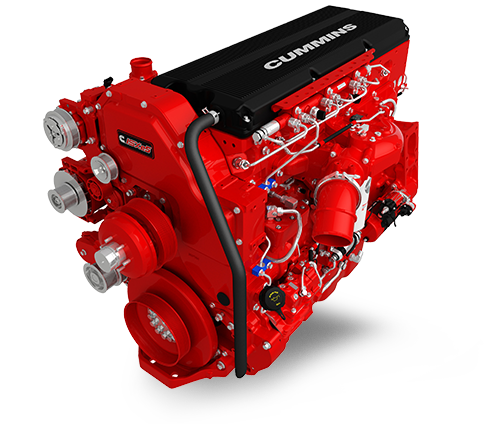 | | |
| --- | --- |
| Cummins X15 Euro 5 Specifications | |
| Type | 4-cycle, in-line, 6 cylinder, Turbocharged/charge air cooled |
| Bore & Stroke | 137 x 169 mm (5.39 x 6.65 in) |
| Displacement | 15 litres (912 cu in) |
| Compression Ratio | 17.2:1 |
| Oil System Capacity | 49.2 litres |
| Weight (Dry) | 1286 kg (2836 lb) |
| Torque Range | 1650 to 2050 lb-ft |
| Horsepower | 485 to 600 Hp |
Availability
The X Euro 5 is fitted to
Explore all Engines
Engines
Explore our range of Engines
Cummins ISL Euro 5

Explore Engine

Cummins ISB6.7

Explore Engine

Cummins X15 Euro 5

Explore Engine