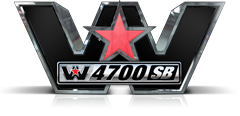 You ask, we deliver. The same rules apply for the Western Star 4700.
The 4700 was made to order – you asked, we delivered. Literally. Input from the Australian trucking community led to the birth of this model. The 4700 is tough, reliable, and talented. Let's get serious.
The master of manoeuvring, this Star is all about drivability. It is strong but moves easily, even in tight spaces. The sloped bonnet and set-back front axle give you abilities like no other truck on the road. We've also designed it so it's easy to service.
A Heavy Duty Agitator Truck
Designed and built to meet a range of vocational applications, the low tare weight advantage combined with superior manoeuvrability, makes this truck the perfect fit for concrete agitator configurations.
A Tough Tipper Truck
The 4700 is suitable for use as a heavy duty tipper truck for a range of commercial trucking as a spreader, pumper, mining work and more. With easy ingress into and egress out of the truck, along with the sloped bonnet, and set-back front axle, the 4700 delivers on safety and comfort.
Galvanised Steel Cab for a Long Life
If you look for aluminium or rivets on this Star, you will not find them. The 4700 is one tough Star of steel. Built for strength with a galvanised steel cab, this truck is designed to maximise your protection. With a unit body welded steel construction, there are no rivets or any kind of secondary fasteners.
Precision-welded for strength the 4700 cab is dipped in a 17-stage e-coat process for long lasting corrosion resistance.
Multiple Configurations – 4×4 Truck
Features
Explore the 4700 and see what it's made of
Tippers
Service Trucks
Concrete
Intra City
Western Star 4700 Information
Explore all Models
Models
Explore our range of Western Star Trucks