Star repair & maintenance
Western Star Repairs & Maintenance simply requires one low monthly fee enabling greater control of business expenses. At Western Star we are committed to delivering the best care available to assist in maintaining your Star in tip top condition and keeping you on the road where you're born to be.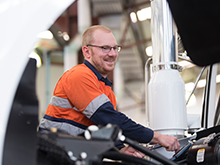 Repair & resale value
Discipline and attention to detail pay off. For you, that is. When we say 'Serious Trucks', we mean it. Western Star Trucks have a reputation of holding their value, and your Return On Investment is important to us. Nonetheless it will be tough to part ways with your reliable workmate after sitting in the driver's seat.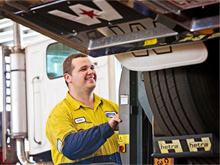 Star Assist
When your Star needs attention, you are covered by our National Dealer Network to keep you on the road longer, and in the unfortunate event of a breakdown you are supported with our comprehensive roadside assistance package '24/7 Star Assist'.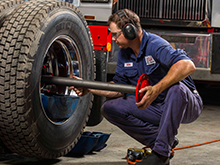 We have you covered
Fixed monthly rates
Stress free trucking
Supported by 24/7 star assist
Suite of options to suit your business
Best care for your Star
Star Cover
With our three levels of repair & maintenance, we offer comprehensive servicing for your Western Star, to keep your business on the road where it belongs.
STAR CHOICE
Maintenance only
Features
Engine
Transmission
Drive Axles
Chassis
STAR GOLD
Full Repair & Maintenance
Features
Engine
Transmission
Drive Axles
Electrical System
Suspension
Steering
Chassis Frame
+Lots more
STAR SILVER
Maintenance only plus driveline
Features
Engine
Transmission
Drive Axles
STAR CHOICE
Star Choice – Maintenance only*
Set Maintenance only – this will cover the vehicle for scheduled log book servicing, includes the following:

STAR SILVER
Star Silver – Maintenance only plus driveline.
(manufacturer's engine warranty, transmission, drive heads and axle housing). Driveline must be taken with Service contract (as per the Star Choice), covers the following:

Engine warranty subject to OE guidelines, including distance, fuel burn and operating hours
Auxillary case
Transmission case
Forks
Input shaft
Main shaft
Countershaft and counter shaft gears
Bearings
Transmission controller
XY Shifter
Oil pump & coolers
Drive head
Axle housing
Propshaft
STAR GOLD
Star Gold – Full Repair & Maintenance.
The full R&M package will cover you for complete maintenance and repairs for the life of the contract, bumper to bumper.
Any components not expressly listed are excluded from the contract. All contracts are non-transferrable and limited to engine distance, fuel burn or hours (whichever occurs first).

Serious Trucks, Serious Care
Let's Get Serious