Cummins ISL Euro 5 Truck Engine
The Cummins ISL Euro 5 is the latest generation of mid-power engines.
The ISLe5 is Cummins latest generation 8.9-litre mid-range engine, with SCR (Selective Catalytic Reduction) technology utilised for emissions reduction and performance improvements.
Complying with Euro 5 and ADR80/03 emissions regulations, the ISLe5 features best-in-class power density and fuel economy, and is offered with ratings up to 400 hp and peak torque of 1255 lb ft. The ISLe5 is electronically uprateable from 280 to 400 hp without hardware changes.
A compression engine brake is offered on the ISLe5, providing up to 250 braking horsepower.
Full-authority electronic control of the ISLe5 provides the standard list of Cummins features including diagnostics, data downloading, PTO control, maintenance monitoring and engine protection.
The ISLe5 SCR system is a fully integrated in-house design, developed by Cummins Emissions Solutions. SCR technology does not change the design or operation of the basic engine. Rather, it is an exhaust after treatment system where urea is dosed into the exhaust stream to reduce NOx emissions.
This means engine combustion can be optimised for improved fuel economy and reduced heat rejection while allowing higher ratings.
Click here to see more product information.
Features
Explore the ISL Euro 5 and see what it's made of.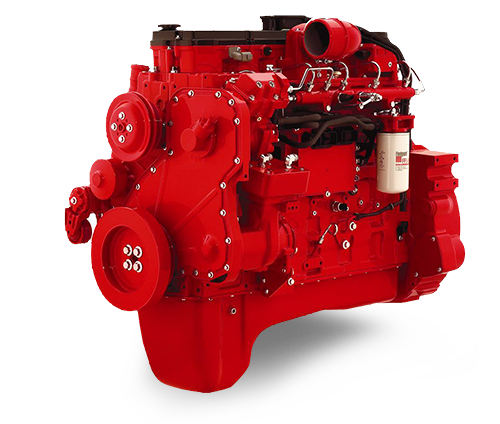 | | |
| --- | --- |
| Cummins ISL Euro 5 Specifications | |
| Type | 4-cycle, in-line, 6 cylinder, Turbocharged/charge air cooled |
| Bore & Stroke | 114 x 145 mm (4.49 x 5.69 in) |
| Displacement | 8.9 Litres (541 cu in) |
| Compression Ratio | 16.6:1 |
| Oil System Capacity | 27.6 Litres |
| Weight (Dry) | 706 KG |
| Torque Range | 770 to 1255 lb-ft |
| Horsepower | 280 - 400 Hp |
Availability
The ISL Euro 5 is fitted to
Explore all Engines
Engines
Explore our range of Engines
Cummins ISL Euro 5

Explore Engine

Cummins ISB6.7

Explore Engine

Cummins X15 Euro 5

Explore Engine