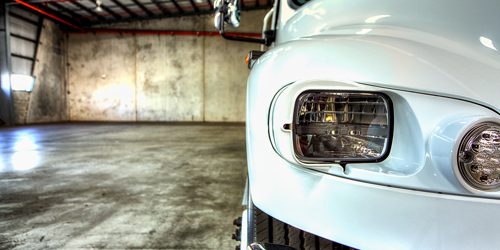 Western Star 2800SS revealed at Brisbane Truck Show
• Greenest diesel engine in Australia
• Meets current and future emission standards
• Segment best cabin space
• Segment best turning circle
• Segment best entry and egress.
The Western Star 2800SS rigid truck featuring Australia's cleanest diesel engine, marks a new era for the brand, with its entry into the 15-22.5 tonne market.
An all-new model to the Western Star lineup and on sale in Australia late 2015, the 2800SS features the greenest diesel truck engine in Australia that meets current and future emission standards. It also has segment leading cabin space and cabin entry and egress. Its segment best turning circle gives it excellent manoeuvrability.
Recognised as the best medium truck in America with a 24 percent market share and production of 45,000 units in 2014, the 2800SS features state-of-the-art driveline technology and components, with nationwide back up support, from one of the world's most trusted truck brands and dealer networks.
A key factor in the success of the 2800SS is its versatility that supports a variety of body styles, and chassis mounted equipment, to suit almost every application.
Speaking at the Western Star 2800SS debut at the Brisbane Truck Show, Mr Doug Shand, General Manager – Western Star Trucks Australia, said: "We are proud to introduce the 2800SS rigid truck to Australian buyers.
"With Australia's cleanest diesel engine, segment best cabin space, best turning circle, best cabin entry and egress, plus excellent safety technology, longer service intervals, lower maintenance and operating costs as well as overall durability and versatility, we believe the Western Star 2800SS will carve its own niche in the market with customers."
DRIVELINE
The Western Star 2800SS introduces Australia's greenest diesel engine the Cummins ISBE6 that is 2013 OBD USA Certified. It already meets current emission standards and the anticipated ADR80/04 emissions, due for legislation at the end of the decade.
The six-cylinder, 260 hp (191 kW) 895 Nm, turbocharged, high-pressure common rail, fuel injected diesel engine is fitted with Diesel Particulate Filter (DPF), Selective Catalytic Reduction (SCR) and a dosing system for the Diesel Exhaust Fluid (DEF) for optimum fuel economy, performance, near-zero emissions, low maintenance and longer service intervals that equal lower operating costs. With the added ability to option increased horsepower to 325 hp (242 kW)
Coupled to the Cummins ISBE6 is the Allison 3000 RDS fully automatic six-speed transmission with Continuous Power Technology™ that delivers smooth, seamless, full-power shifts and superior acceleration.
Fitted with fifth generation controls, the transmission features Fuel Sense that can achieve up to 20 percent fuel saving by automatically adapting shift schedules and torque, maximising efficiency based on load, grade and duty cycle.
DESIGN
Designers started with a fresh sheet when conceiving the 2800SS and have created a medium sized truck with clean, discreet lines and contours, giving it a distinct on-road presence.
EXTERIOR
The Western Star 2800SS is characterised by its tall windscreen and downward sloping bonnet for improved aero efficiency and outstanding visibility. The 2800SS has the signature, chromed, Western Star grille and below that, the aerodynamically shaped three-piece front bumper, which incorporates the Front Underbody Protection System (FUPS). The front guards with rolled corners feature large rectangular, wraparound LED headlamps and above that, LED turn indicators.
It has wide-opening doors with low-set door handles and large glass area. There are grab rails adjacent to the doors and the sizeable exterior mirrors are mounted wide of the cabin to allow an unobstructed view to the rear of the truck and beyond.
INTERIOR
The segment leading (2692 mm BBC), spacious, steel and aluminium cabin has a low step-in height and non-slip entry steps with wide opening doors and low-set door handles.
All round visibility, vital for manoeuvring in confined spaces and cityscapes, is excellent thanks to the large glass area front and sides, angled bonnet and rolled guards.
Inside, the all-new interior indulges its occupants with superior head, shoulder, hip and legroom. Comfortable, supportive and adjustable suspension seats, trimmed in durable, high quality cloth and a two spoke tilt-and-telescopic steering wheel, so hours behind the wheel are no longer a chore.
The clean exterior lines apply equally to the interior with the all-new dash molding and the overall layout adhering to ergonomic principals, ensuring all controls are within easy reach of the driver and intuitively positioned, while the analogue instruments keep the driver informed on the vehicle's status.
To improve insulation, reduce noise and therefore fatigue, double door rubbers are fitted around the entire door aperture and the firewall and roof lining are both insulated.
CHASSIS
The Western Star 2800SS, has a heavy-duty ladder frame chassis with a flush mounted rear cab cross member.
With an overall length of 10,799 mm, a wheelbase of 6426 mm, the 2800SS will be available in two configurations; 202-inch or 10 pallet and 253-inch or 12 pallets.
It's segment leading (for 12 pallet trucks) turning circle of 20 metres is due to its set-back front axle, rack and pinion power assisted steering and front steer axle that maximises its turning radius, achieving a 55 degree wheel cut.
The 2800SS has been transformed to right hand drive for the Australian market. The process was conducted under the most exacting engineering standards and strictest quality control measures, together with proven components.
Ride comfort and load carrying ability lead the segment thanks to the Detroit DA12 front and DARS21 rear axle combined with the Airliner rear suspension.
SAFETY
Safety is paramount at Western Star and the 2800SS includes active and passive safety technologies for maximum occupant protection.
The cabin meets Swedish A Pillar and SAE J2422 Crash Tests and there are plans to test the 2800SS in Australia to the similar ECE29 standard.
There are three-point seatbelts for all occupants as well as a driver's airbag.
In addition, safety for all motorists is enhanced with the 2800SS having, as standard, LED headlamps, turn indicators, mirror and marker lamps. PAYLOAD
With a tare weight advantage of up to 300 kgs, thanks to the use of high strength, lightweight components, the Western Star 2800SS can carry a bigger payload compared to many of its rivals.
Available in 202-inch or 10 pallet and 253-inch or 12 pallet configurations, the versatility of the 2800SS provides a wide range of bodies and chassis mounted equipment to be utilised to transport everything from general cargo to building supplies and even refrigerated produce.
OWNERSHIP
Western Star Financial is part of the Daimler Group, the world's largest truck financier, offers a one-stop shop for all truck finance needs.
Western Star Financial offer:
• Tailored finance packages that meet each individual's needs backed by industry knowledge and experience
• Fast approvals through our dedicated finance assessment team who appreciate the needs of truck buyers.
• Competitive pricing and flexible finance contract terms, with the option of repayment holidays.
PRICING
Will be announced at the launch of the Western Star 2800SS Truck.
[foogallery id="345″]