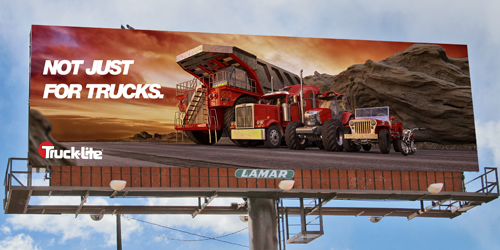 Penske Commercial Vehicles to light up Brisbane Truck Show
Industry leading LED light manufacturing specialist Truck-Lite, is set to dazzle the 2015 Brisbane Truck Show with a display of their extensive product range, distributed by the Penske Commercial Vehicles dealer network that has over 60 locations in Australia and New Zealand.
Founded in the USA by George Baldwin in 1955, Truck-Lite produces safety lighting, forward lighting, wiring harnesses, mirrors, turn signal switches, and safety accessories primarily for the heavy-duty truck, trailer, and commercial vehicles from manufacturing plants in the USA, the UK and Europe.
Truck-Lite's lighting technology has transformed other industries like mining, construction and agriculture, to name a few.
Recently, Truck-Lite acquired Rigid Industries, a world leader in forward-projecting lighting products and producer of the most powerful and efficient LED lights on the market, that are recognised for their superior illumination, low power usage and no-maintenance.
Established in the uncompromising off-road racing world, Rigid became the world's first LED lighting company to produce an LED Off-Road light bar in 2006.
Making their first Australian appearance under Penske Commercial Vehicle distribution at the Brisbane Truck Show will be the Truck-Lite product range including LED headlamps, fog lights, driving lights, high-mounted stop lights and turn signal lamps and the Rigid Industries light bars, lighting products and accessories, a selection of which will be on sale throughout the show.
For more information on the Truck-Lite and Rigid Industries product ranges visit Penske Commercial Vehicles stand, #27, or to locate your nearest Truck-Lite Dealer visit our website www.truck-lite.com.au.
Following the brands' acquisition by Roger Penske, Truck-Like Australia operates under Penske Corporation.